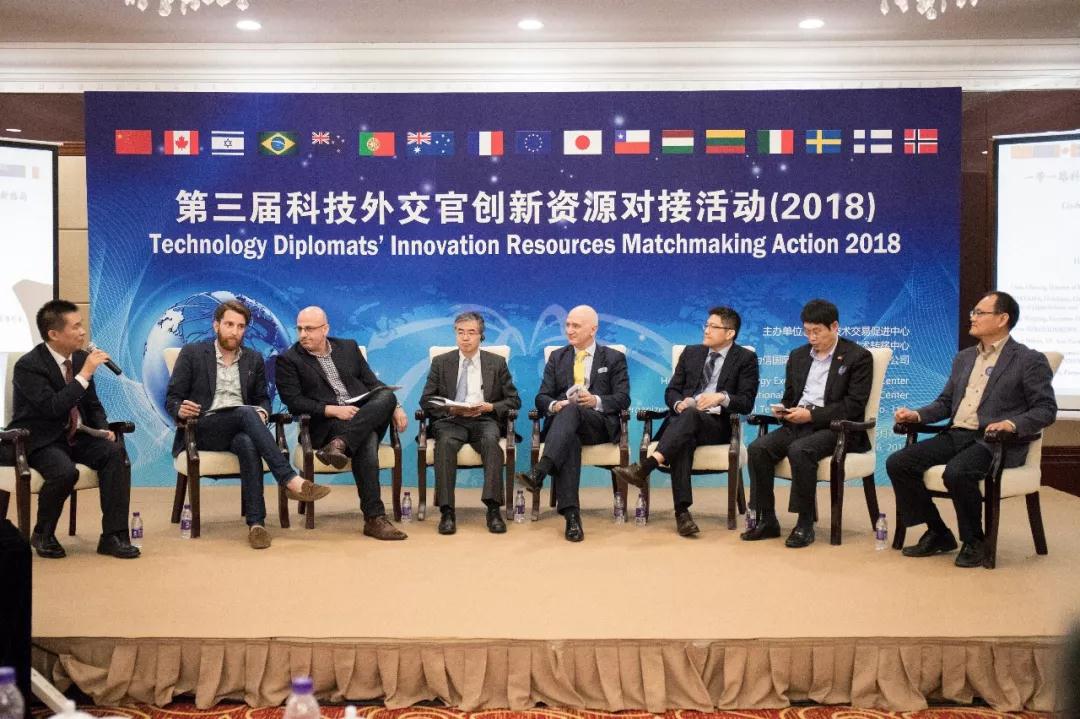 Diplomats hold a panel discussion on June 26, 2018. [Photo provided to Chinadaily.com.cn]
---
The Third Technology Diplomats' Innovation Resources Matchmaking Action Forum hosted by Beijing Technology Exchange and Promotion Center and China International Technology Transfer Center was held in Beijing on Tuesday.
More than 150 delegates from Canada, Sweden, New Zealand, Portugal, Chile, Japan, Norway, Finland, the EU and other countries and regions, embassies, R&D institutions and enterprises in China attended the event.
"All the countries are welcomed to strengthen scientific and technological cooperation and exchanges in Beijing. And we'll continue to optimize our policies to attract talents," said Guo Rui, vice-director, Department of International Cooperation, Beijing Municipal Science & Technology Commission.
He said he hopes to encourage overseas high-end technologies to strengthen their cooperation with domestic enterprises. "Through this event, we hope to promote international technology transfer in a more effective way," he added.
In the morning session, the science and technology diplomats from Australia, Canada, and other nine countries introduced their respective national policies on scientific and technological innovation, resources for scientific and technological innovation and development trends.
In the afternoon, project presentation and B2B meetings were held. Focusing on biomedicine, energy conservation, AI, they showed 15 key projects of countries such as Canada, Sweden and New Zealand, and reached a number of cooperative intentions with different provinces in China in a lively atmosphere.
As an important platform for international cooperation in science and technology information exchange, the forum has been held for three consecutive years. It's an effective channel for international cooperation on innovation and widely hailed by technology diplomats from home and abroad.